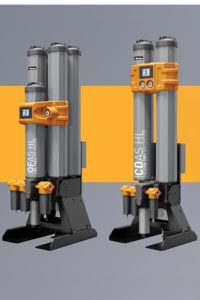 Parker Hannifin Industrial Gas Filtration and Generation Division introduces an all-new range of integrated drying and filtration systems: Parker dominick hunter CDAS (Clean Dry Air System) and OFAS (Oil Free Air System) featuring innovative technology and ensures validated air quality and efficient operation. The air quality is third-party validated to ISO 7183 and ISO 8573-1 for both systems while OFAS also offers class 0 with respect to total oil from both oil lubricated and oil free compressors. This classification ensures highest quality air at the point of use for critical applications at a fraction of the cost of a dedicated oil free compressor. Both CDAS and OFAS are specified with advanced filters that include the latest Parker domnick hunter OIL-X technology.
The innovative systems have been designed to provide consistent high performance even over an extended period of time. Developed to set a new standard for the industry in terms of efficiency and productivity, they use a specialist high-strength desiccant cartridge with snowstorm filling that maximizes packing density, prevents channelling effects, guarantees a consistent dew point and contributes to an extremely low differential pressure, helping to reduce the energy consumption of the compressor. Minimum total cost of ownership and the best cost-benefit ratio of any high quality air treatment solution is guaranteed through reduced service times, more simplicity in the replacement of parts, maximum uptime, extended maintenance periods and longer operational life.
With CDAS and OFAS, Parker dominick hunter has redefined compressed air drying and filtration in order to provide for the best possible combination of economy, efficiency, quality, functionality and longevity. A range of state-of-the-art energy saving technologies is built into every unit as standard. Together with advanced flow management and a unique filter offering consistently low differential pressure, it provides for significantly reduced energy consumption and reduced running costs. The advanced filters used in both systems include state-of-the-art OIL-X technology by Parker domnick hunter. This technology has been developed in tandem with the Parker dominick hunter CDAS and OFAS dryer ranges and is available in four different variants (water separation, coalescing, dry particulate and oil vapor removal).
For more information, click below:
parker_bro_pkr_cdas_ofas_072018